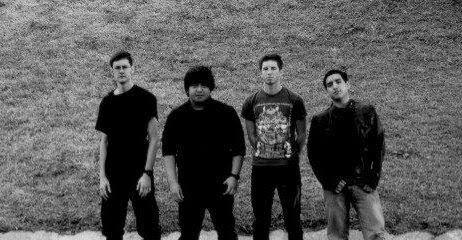 The Illuminati sheds its skin and rises melodically against the people in this message of warning for the listener of this transmission from A.D. 2101. 
Frontman John's thoughtful and uplifting lyrics and melodies awaken a sense of hope and rebirth with which he combines guttural undertones heavy with the anguish and desolation of a cold, new world. John, alongside fellow guitarist Diego, unite to bring the listener a soaring harmonic balance full of laser-tight lead lines and spirit-freeing sweeps that are refreshing in of itself but when combined with the insightful messages and melodies found throughout their latest self-titled offering succeeds in manifesting visions of a future consumed by a war for the emancipation of the human soul fought against lock stepping cybernetic shock troops on the killing fields of tomorrow.
Death Be Not Proud's technical precision is in large part owed to drummer Nate; whose use of driving polyrhythmic beats allow him and bassist Adam to rain barrage after barrage of percussive cluster bombs and heavy artillery basslines throughout the album. The chemistry shared amongst the members of Death Be Not Proud is rare and refreshing and well worth checking out.
"Winter is Coming" is an anthemic, soaring track that brings about thoughts of rise to revolution with precise guitar sweeps along with commanding vocals atop the driving war march blast beats and punching basslines which brings together perfectly the soundscape that Death Be Not Proud succeeds time and time again to illustrate of a post-apocalyptic dystopian wasteland further found throughout the album,  
"Against the Tides" brings to light a fight against regression toward primal instincts and the degradation of one's higher self the presented as reflections in the journal of a rebel soldier in the midst of mankind's fight against assimilation and struggle to reclaim our freedom and right to self-determination stripped by the mechanisms of our own blind designs. "Isolated" rages against the repression of a society on the brink of collapse. Where the track "Resist" is a brutal call to arms which deserves placement on any ones playlist seeking an uplifting but driven melodic metal jam. Where "Reminiscence" may as well be an anagram for secret plans made in the whispers of night illuminating the inner rejection felt in trying times and hidden agendas.  
Death Be Not Proud conjures a rich soundscape which manifests visions of a cold future world rife with chaos and disorder, Wars against the mechanical rage around the world. Seen from the perspective of a resistance fighter during a brutal battle towards a new declaration of mankind's Independence -
Troy Smyth - WAIL 
Members: 
John- Guitar/Vocals 
Adam- Bass
Diego- Guitar 
Nate- Drums 
Booking please direct all e-mails to deathbenotproudmusic@gmail.com 

Links:
Bandcamp: https://deathbenotproud.bandcamp.com/ 
Spotify: https://goo.gl/PdPVYh 
iTunes: https://goo.gl/U1gQ34
Facebook: https://www.facebook.com/deathbenotproudmusic/videos/2032955450110686/